Model 9
Cutaway body, raised fretboard, and exceptional "low-buzz" action
I found this 9C review on "Acoustic Music Forum". I thought the reviewer said it better than I could have.
I have a Beardsell 9C, nylon string guitar. Spruce top, EIR back and sides.
I bought mine directly from Allan Beardsell when his workshop was still in Toronto. He's moved west since to Winnipeg I believe.
The guitar is very unique looking and it throws most people off when they first see it. But it incorporates some excellent features that make the guitar unique.
To start, it has a raised fretboard where the neck and body overlap with an angled top styled after Humphrey guitars. This makes the string angle on the top pull at a much less oblique angle while each string rests on its own peg rather than a common bridge. All this gives the guitar a more harp-like dynamic and a very unique intonation.
With the cutaway body, I have access to the 19th fret (not that I ever use this feature) and Allan has designed the neck/body interface so that there is a thumb ridge which gives the support you need to work the upper registers.
The bracing is also unique. The back has a radial brace pattern of arched spruce braces that I have never seen on any other guitar. The top has a fan brace pattern which is possible because of the small elliptical sound hole.
The neck is tear-drop shaped but Allan has done a lot of work to make it form perfectly to the shape of a person's index finger to thumb curve so that you can just about float your left hand up and down the neck until you need to press down.
There are two soundholes on the upper side of the guitar that send a whole lot of sound directly up my nose when I'm playing tickling the little hairs. It actually negates any need for a monitor when I'm on stage.
Finally, Allan has incorporated a Laskin armrest on this model of guitar as a standard feature. The armrest is under appreciated in the guitar world in my opinion. Anyone playing for a long period of time knows the ache of having the sharp edge of the lower bout pressing into their right forearm. The Laskin armrest does away with this. I'd get one on all my guitars if I could.
The guitar produces a very clean, very even tone from top to bottom.
It's action is excellent for a nylon string. Usually one gets to excessive string buzz when playing a classical plucked-string style with low action. Either I'm not plucking hard enough or the guitar's sting angle somehow deflects the vibration so as not buzz. Maybe it's just magic.
If you get a chance to play a Beardsell, you will be in for a unique guitar experience.
The Twelfth Fret in Toronto has a web page on Beardsell guitars. Here's a quote: I think I can guaranty that Allan Beardsell's nylon string guitars are like nothing you have ever played! The innovative features and pleasing tonality give this avant garde instrument a unique perspective of the classical guitar world.
The Humphrey-like 14 fret neck joint is raised from the body and flared out from the cutaway for the best upper register access we have ever experienced! The double side ports on this instrument do not seem to effect the frontal projection but allow the player to hear all of the subtle tonal nuances as well as get a sense of the power of this guitar. The sculpted classical style bridge utilizes ivory pins rather than the traditional saddle and the bone nut is compensated for a noticeably improved intonation.
After you play this instrument, you quickly realize that the futuristic aesthetic of this guitar is entirely secondary to it's well thought out practical and functional design!"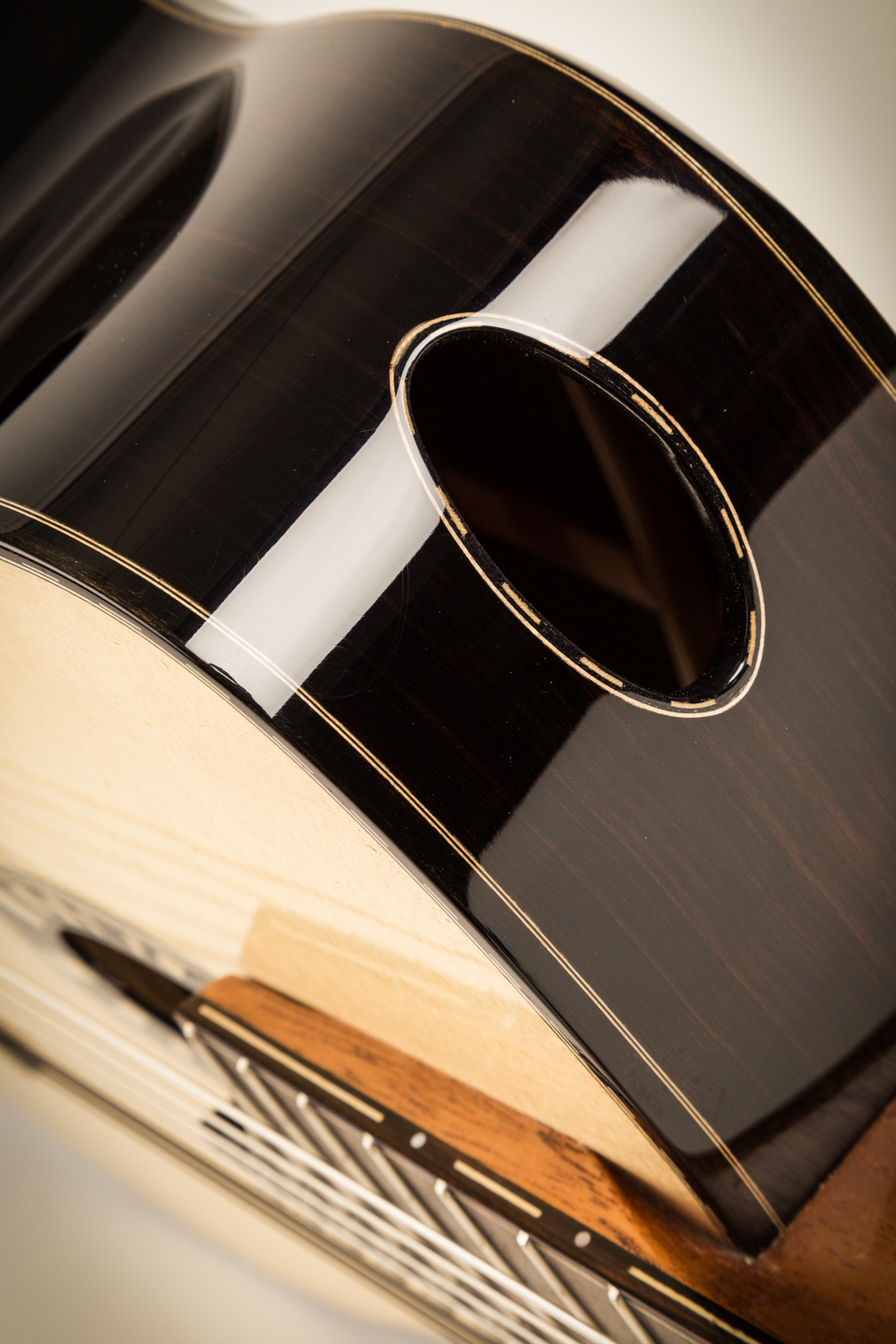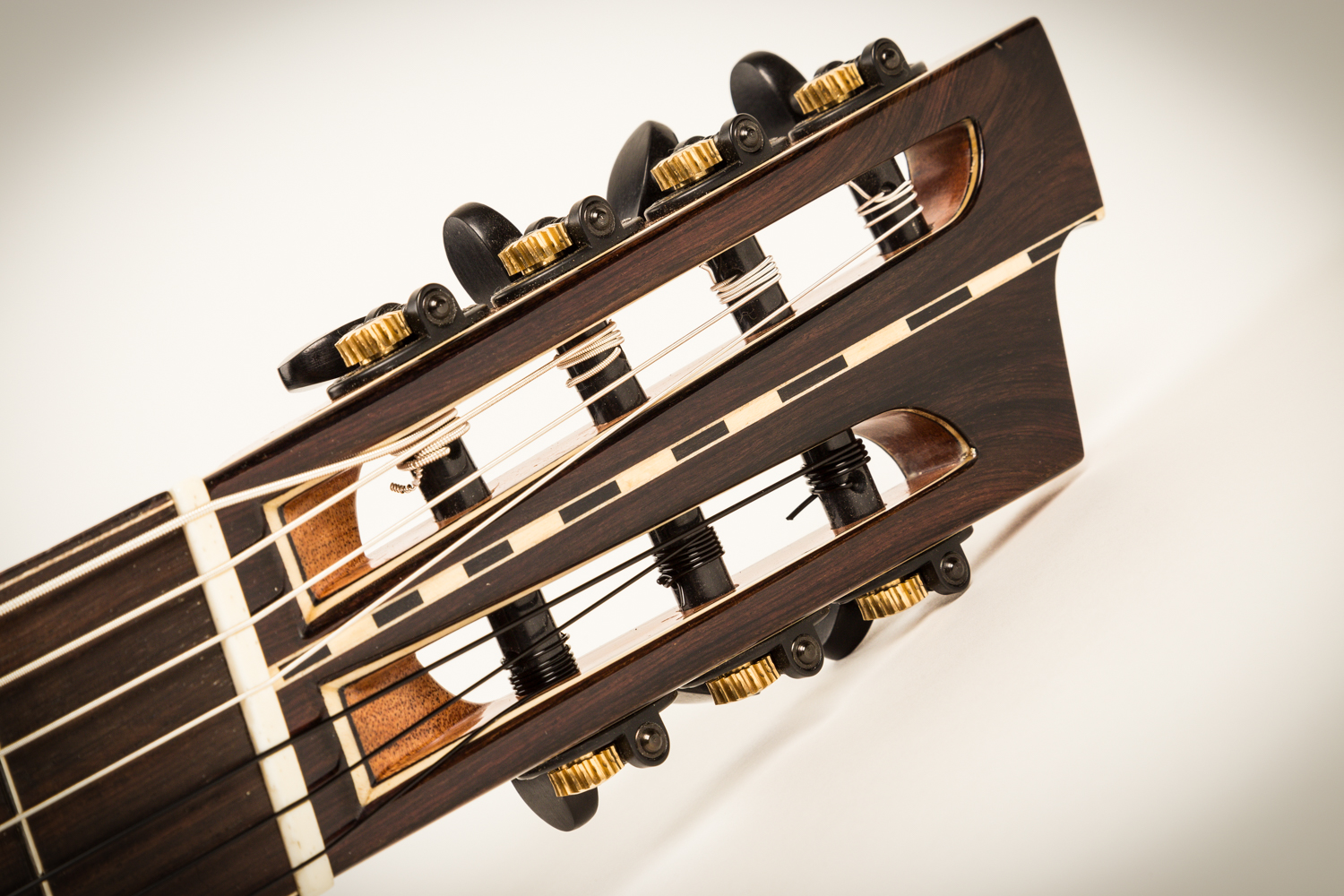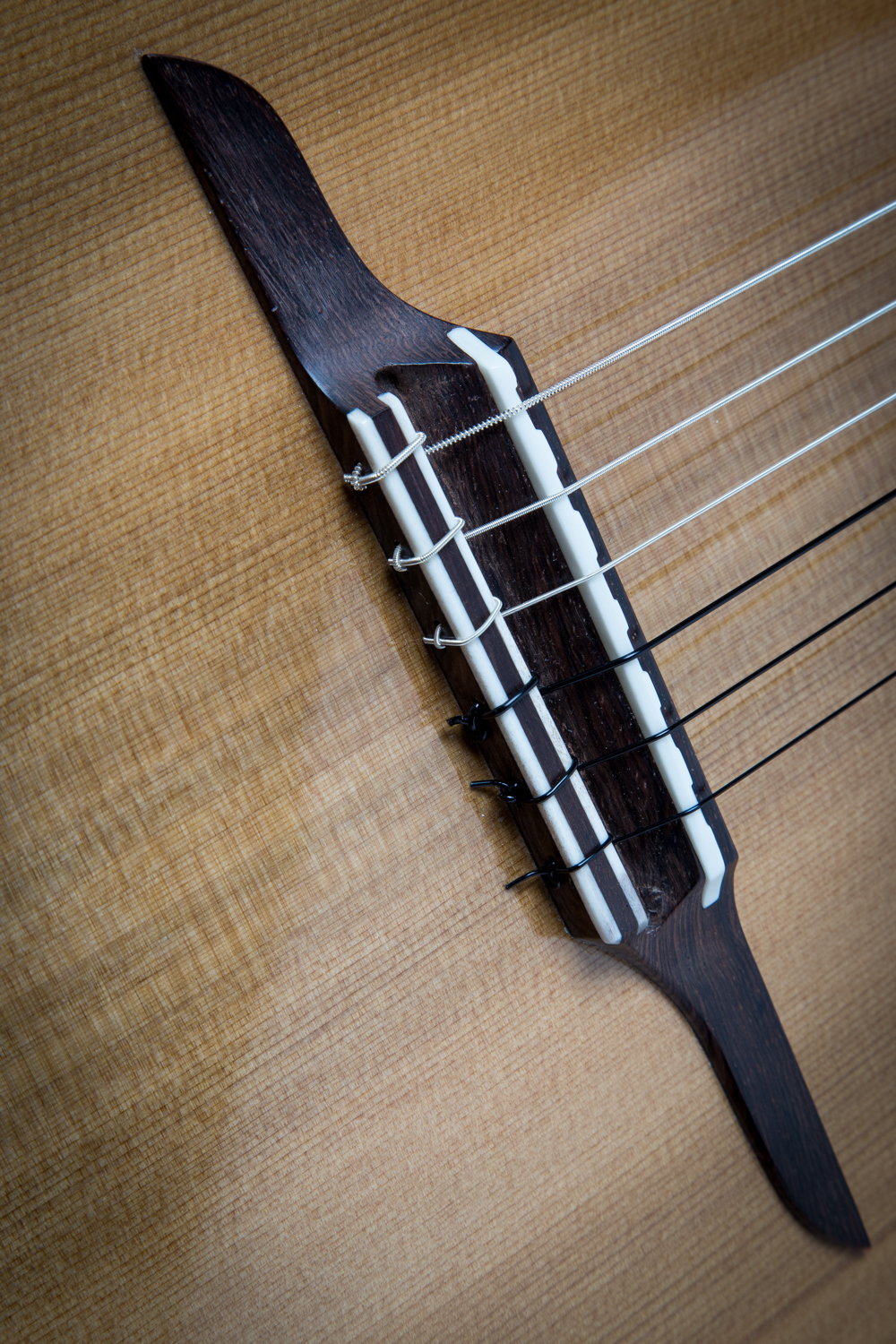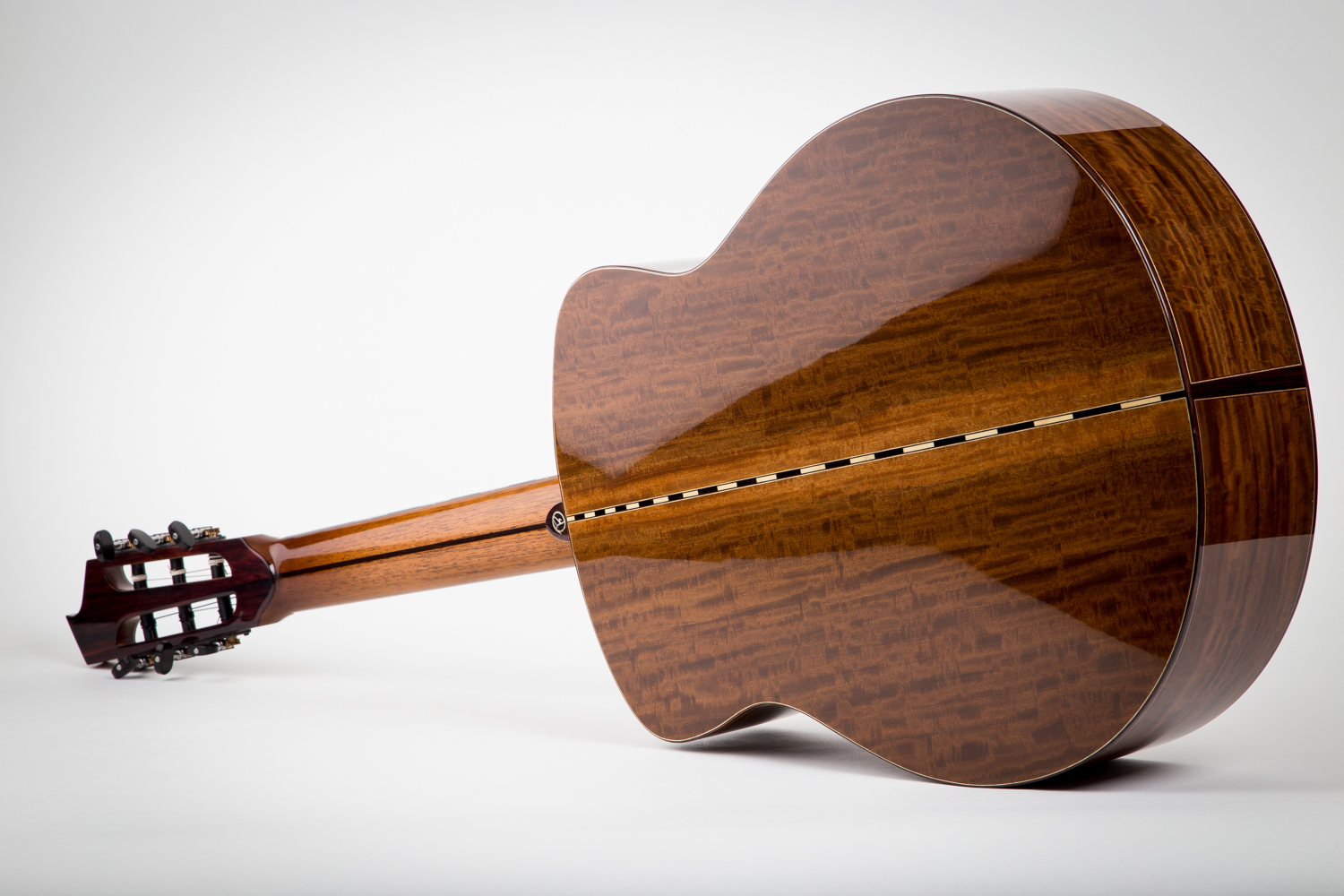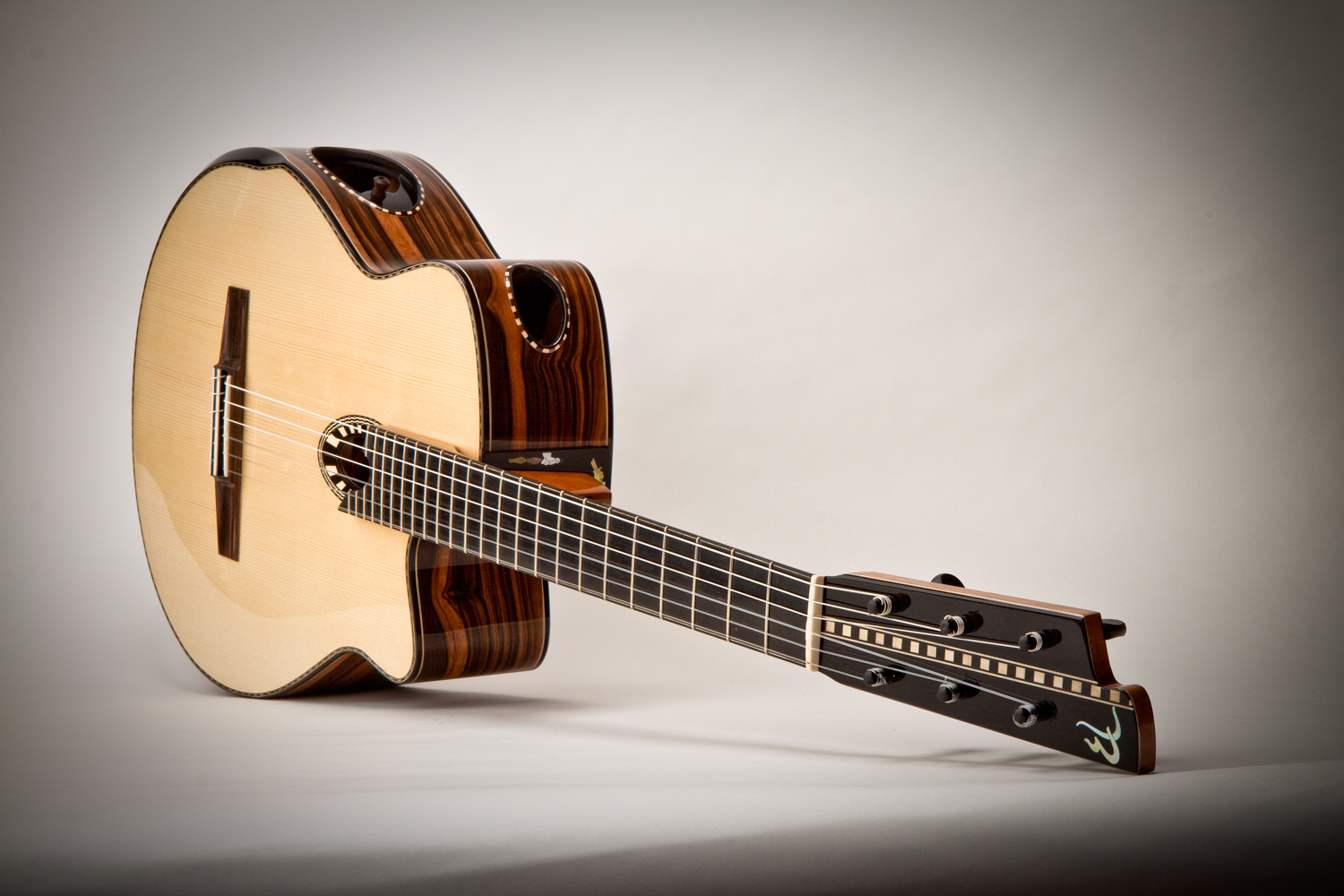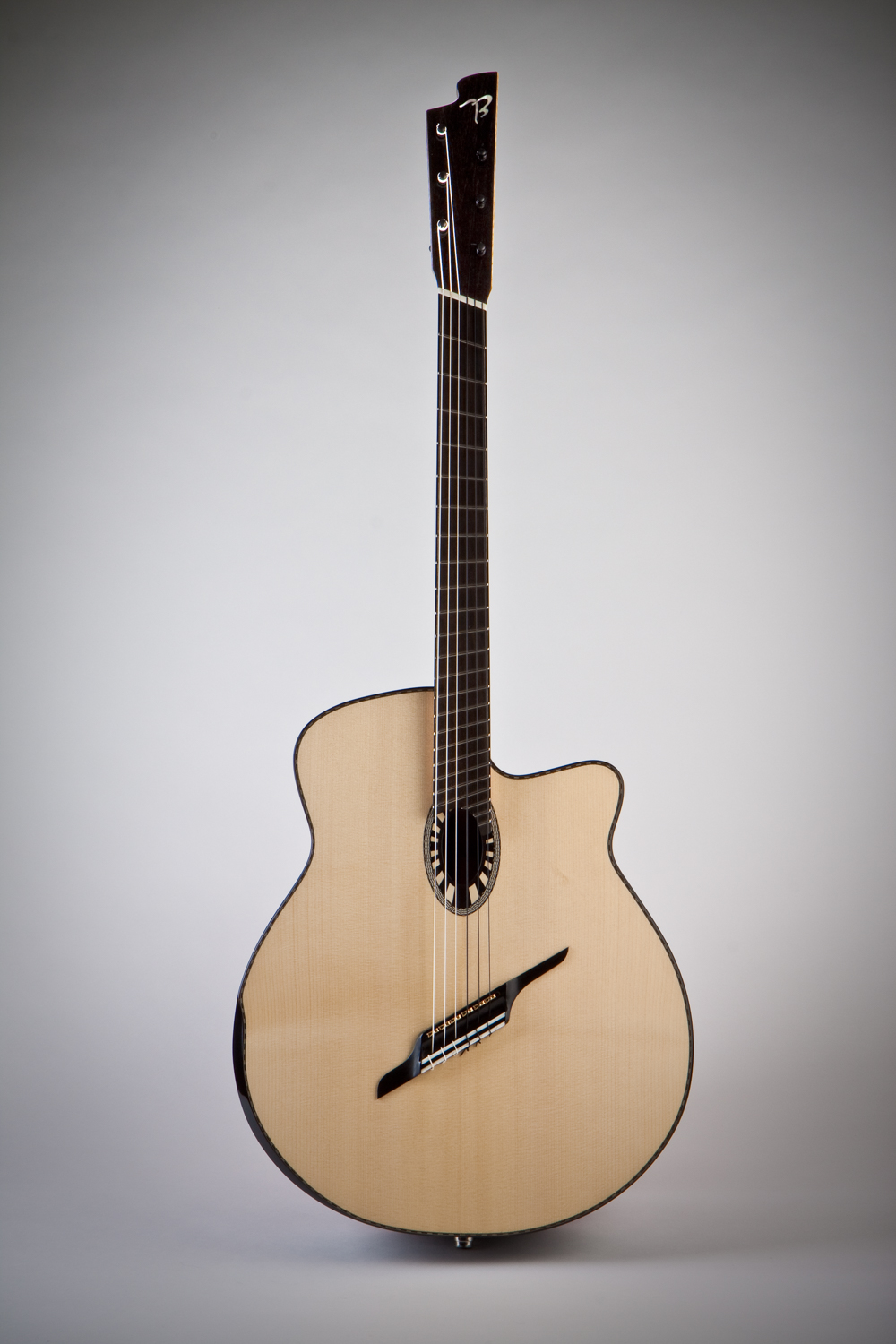 Beardsell guitars come in several body shapes and styles: large, medium, and small bodied steel-string acoustic, solid-body electric, semi-acoustic arch top electric, nylon string, manouche-style, and harp guitar (we even make a pretty sweet mandolin and a killer electric banjo).
Get an eyeful of the photos in the various galleries strewn throughout the site. See something you like that's almost-but-not-quite what you're looking for? Feel free to order "off the menu," as many already have. Truth be told, we've created many "hybrid" instruments over the years, with most features available on one model transferrable (within reason) to just about anything else (like an archtop-style custom brass tailpiece on a steel-string flattop, or a multi-scale classical guitar, or a cutaway banjolectric, or... well, you get the idea).
Venetian or Florentine cutaways, unconventional fingerboard extensions, wacky amplification solutions, sideports (with or without sliding covers), whimsical logo styles, personalized inlays, motorized, remote-controlled attachments of dubious form and function... it's all to play for. Whatever you have in mind, Al will be happy to discuss various options and possibilities with you.